Dayanne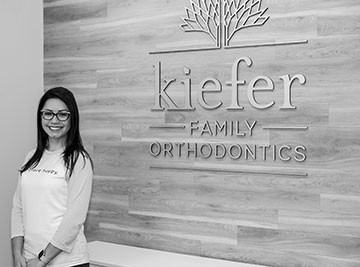 Dayanne brings over ten years of chairside experience to Kiefer Family Orthodontics. As a patient, she has experienced treatment with braces and clear aligners and loves to provide help from a patient point of view! She enjoys developing relationships with patients and helping them gain confidence in themselves as throughout their orthodontic journey.
When Dayanne is not in the office, she enjoys spending time with her husband Derek, and their baby girl, Camila. They love watching her grow and developing her new personality alongside their first (fur) baby, Tobias!
Jeffery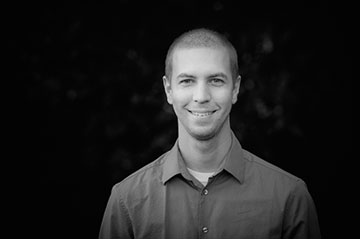 As the financial and scheduling coordinator, Jeffery keeps our office organized and insurance friendly. He'll make sure that our Treatment Coordinator has every bit of information she needs about your insurance plan in advance of your appointment so we can best help you use your benefits. He looks forward to setting appointments at time and days that are convenient for your schedule. His calm demeanor, attention to detail and organized ways will make you smile over and over again. We love having Jeffery on our team.
When Jeffery is out of the office, he enjoys music, movies, technology, and spending time with his daughters Fiona and Gwen.
Kate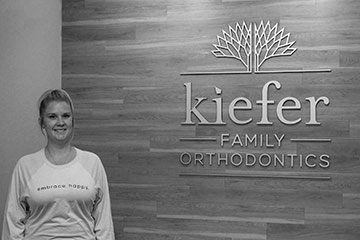 Kate's favorite thing about orthodontics is making patients of all ages comfortable…at all times. As an experienced orthodontic assistant, she absolutely loves watching smile transformations take place in a smooth and enjoyable fashion. She feels it is so rewarding to give a patient who may be uneasy about their appointment a relaxed and amazing experience. In fact, Kate's convinced it makes everyone feel happy and accomplished!
When Kate's not in the office, she's working on a marketing degree and enjoys going on outdoor adventures with her husband and two daughters. One day, Kate dreams of becoming a Disney Princess, and we are all very ready for that!
Kayla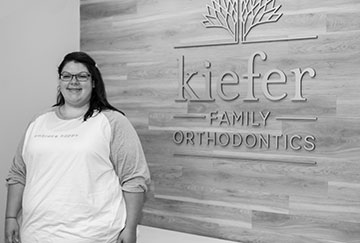 Kayla welcomes everyone with a smile. A graduate of the Lehigh Valley School of Dental Assisting, she's often the cheerful voice you hear on the phone when you call to schedule or update insurance information. Kayla also helps to create the beautiful decorations and KFO Creation Station Activities for families to enjoy!
When Kayla is not in the office, she enjoys spending time with her hubby, Stephen, their sons, Dean and Kade, being with family, and going to the beach. Kayla is thrilled to be a part of our team and to be a part of your smile story!
Kristen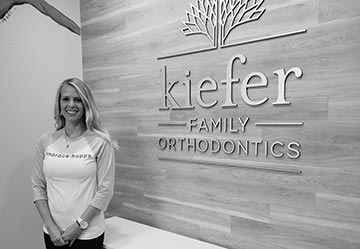 Kristen's cheerful personality and welcoming smile make her a great addition to the Kiefer Family Orthodontics Team. She enjoys making patients feel at home the minute they walk through the door. She has a passion for orthodontics and brings with her over twenty years of experience in the dental field. She is an asset in all areas of the practice and can be found taking records, assisting chairside or helping at the front desk.
Outside the office, Kristen appreciates spending quality time with her husband, Michael and her four children, Jack, Ben, Hillary and Harry. She loves going to the beach, reading suspense novels and visiting museums and historical sites.
Reilly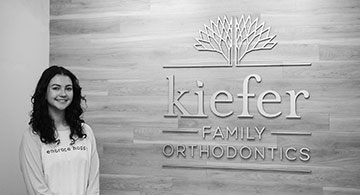 Reilly's favorite thing is to make people smile. That's why she loves working at Kiefer Family Orthodontics so much! Having experienced braces and clear aligner treatment herself, she is always ready to answer questions or offer personal insight from a patient's perspective. You can find Reilly greeting patients at the front desk, taking records, and performing sterilization in the office.
When Reilly is not in the office, she enjoys spending time with her family and friends, listening to music, and playing with her new puppy, Suki!
Sue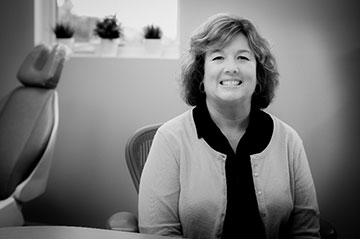 Sue, our treatment coordinator and office manager uses over 30 years of experience in the dental field to help our patients get ready for orthodontic treatment.
Sue started her career in the dental field in 1985, spending the majority of her time as a registered dental hygienist. She is also a registered public health dental hygiene practitioner where she spent 10 years with the Greater Lehigh Valley Oral Health Partnership working in a school-based sealant program. Her devotion to oral health is admirable and her extensive experience makes her a true asset to our practice.
You will notice right away how warm and friendly Sue is. She always has a smile on her face. You will feel completely comfortable talking with her about your orthodontic treatment and she will help guide you in your journey with great care. In fact, Sue and her husband Randy, have two grown children, her daughter Serena lives in Hawaii and her son Clint is married and lives in Nashville. Both of their children completed orthodontic treatment and this experience gives Sue the ability to empathize with you as a parent of children who had braces.
When Sue is not making people smile in our office, she's likely doing it somewhere else! She loves to travel, kayak, spend time on the beach, snorkeling; she even loves waterskiing!
Sue cannot wait to meet you and help you along in your smile journey!
Tina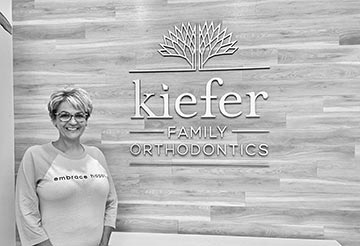 Tina joins Dr. Kiefer with twenty years of orthodontic experience in many aspects of orthodontic practice. A graduate of The Lehigh Valley School of Dental Assisting, you will find her big smile, calm confidence, and eager personality refreshing. She works side by side with Dr. Kiefer as a chairside assistant and especially loves watching her patients transform as they finish their orthodontic care.
When not in the office, you will find Tina spending time with her family including her husband, son, and three young grandchildren who she absolutely adores. She also loves to travel and can't wait to go back to Disney World.