COMPLIMENTARY FIRST VISIT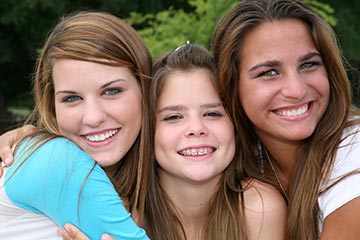 Guess what? Your first consultation is complimentary.  We want you to realize how easy it is for us to help you and so we'd like to invite you to join us for a visit. Let's talk about your orthodontic needs and wishes in a friendly, open manner!
Every smile starts with an initial consultation with Dr. Kiefer!
Your first visit will give you the opportunity to meet the KFO Smile Team, learn more about orthodontics, receive a complete exam, and find out which treatment options will best meet your needs.
We'd love to:
Get to know you…
Review your dental and medical history…
Give you a tour of our beautiful, state of the art facility…
Provide a complete oral exam, photographs and a panoramic radiograph to determine your need for treatment…
Help you create a customized treatment plan…
Discuss all financial/insurance information and payment options…
Pick a date to get started!
What Happens After the Initial Consultation?
Congratulations! You're one step closer to achieving the smile you've always wanted! Next, we'll be so excited to review what you can expect at your upcoming visits and get them scheduled. This is where your smile story begins. Let's get started!
At Kiefer Family Orthodontics, we understand that beginning orthodontic care is a once in a lifetime experience and we respect your reasons for wanting to improve the way you look, function, and feel. Our practice utilizes the latest technology, offering a variety of safe and gentle treatment options to give you the customized, individual care you deserve. The KFO Smile Team will work with you every step of the way to make sure that your orthodontic care is as rewarding as possible!